It is commonly known that the iGaming industry has an incredibly competitive market. Hence, it is important for an operator to constantly develop, and a well-designed marketing strategy is one of the keys to success.
At the beginning of your marketing strategy, player acquisition should be your main focus. If you want to attract more customers to your platform, you need to have a well-established strategy that consists of marketing tools and favorable offers.
This article will explore some of the most commonly used yet effective player acquisition strategies.
1. Attract New Users' Attention
Your journey should begin with catching the potential new customer or player's eye. You may create opportunities for him to come across your project's logo and get acquainted with your brand. In order to be a recognizable brand. A striking logo will make your promotion efforts easier – players will respond better to marketing materials and be more inclined to visit the site and register if you're easily recognized.
To make this happen, you may utilize the popularity of social media platforms – Popular platforms like Instagram, Facebook, and Twitter are handy tools for promoting businesses and expanding your reach. This is done so that customers can remain in touch with you by following your brand on various platforms. In exchange, you can keep your followers up to date on the latest contests, prizes, campaigns, and other events.
2. SEO Optimization & Content Marketing
An especially important component of a successful acquisition strategy is SEO optimization. A well-optimized website can appear on the first page of search results, which is, in many people's eyes, the only page that matters. However, you have to ensure that your website has sufficient quality content to make things work.
One of the simplest ways to get started is to run a blog for your online casino. You may post casino-friendly information on a daily basis, such as what kind of online casino games you like to play, which slot is your favorite, and you may even tell your audience if you have any new games on your website. If your content is search engine worthy, there are chances your website content will be listed on top of search engine results, and that's how a potential player can discover your website.
3. Offer Wide Selections of Games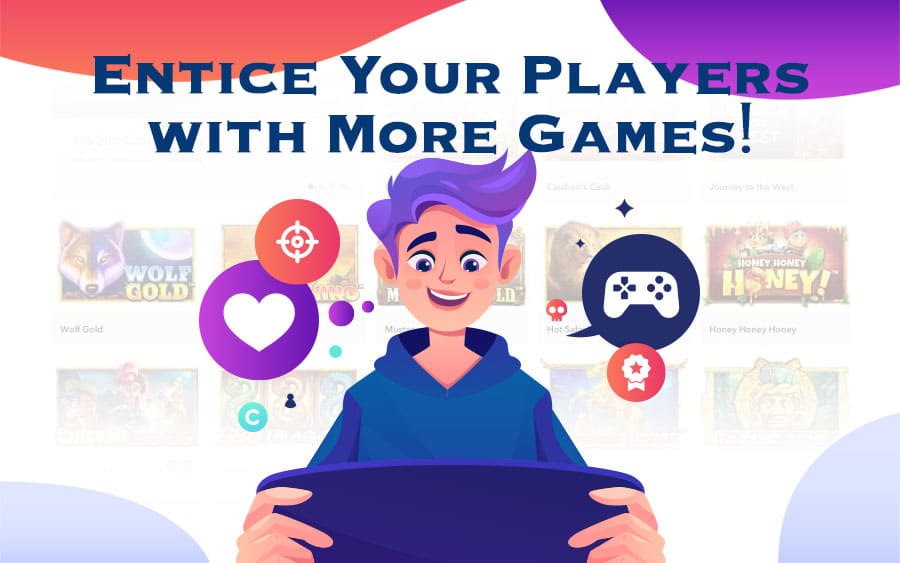 Game content plays an important role because it is the foundation of your site and an excellent tool for acquiring players. Operators should cover their bets by offering as many different types of gaming as possible. The easiest way to offer players what they want is through an API aggregator, which in one click allows you to integrate over 5,000 games from across 100+ iGaming providers into your gaming site. From the live casino, sportsbooks, slots, poker, and many other gambling products you can enhance your games library with no fuss with just one simple integration process.
4. Retargeting
This is an online marketing technique used to target customers who left your site without playing any games or making a deposit. Such website visitors can be targeted with your paid ads while they are surfing the internet, on social media sites, or through emails as well.
If they are intrigued, there is a 70% probability that they will re-engage with your platform. As a result, retargeting genuine visitors is helpful to bring traffic to your website and also convert them into your customers.
5. Attractive Bonuses
An online casino that tends to acquire more users should offer regular promotions and bonuses to players. Welcome bonus and deposit bonus are some of the most commonly used bonuses for every online casino. Furthermore, operators can consider offering free spins for popular slot games, or free credit for certain selections of games. It will enable players to try out your platform without risking their money.
Final Thoughts
If you implement the right strategies and focus on the right things, it is not difficult to attract more players to your online casino. If you want to enhance your site and game library, feel free to visit GamingSoft Global – iGaming White Label Solution and GamingSoft Connect – Casino Game Integration Solution as we can provide you with the right tools, products, and services to gain all the competitive advantages in the Asian market! Click here to contact us now!