It is becoming extremely easy to produce and share video content. The "story" features on Facebook, Instagram and Tiktok are used by individuals and businesses alike to share snippets of their day. In fact, stories have become an integral part of many businesses' video marketing strategies.
Individuals can post anything they want without too much thought. For businesses, however, it is still a form of marketing — your story should truly tell your brand's story. The same goes for longer videos and motion graphics.
Here are 6 video marketing strategies to consider for your next video:
1. Keep it Short, Break it Down
Most of the value of a video ad is communicated within the first 10 seconds. The longer a video goes on, the less your viewers are learning. By the time you hit around 2 minutes, viewer engagement drops significantly.
So why put energy into 1 long video? Break down your information into a series. You could gain that first-10-seconds attention back for multiple videos.
2. Show, Don't Tell
Voiceovers are powerful, but if your onscreen action isn't working hard enough to tell the story, your efforts may be wasted. Facebook videos are watched without sound by default. If you're relying heavily on voiceover and sound design to communicate, your audience may miss the information.
Let the visuals dominate instead. Use text and audio as support. Consider captioning, too. Captions can increase the length of time a Facebook video is viewed. You'll reach a wider audience, hold their attention longer, and make a more memorable impression.
3. Pick an Angle
Most marketing videos are one of these types:
Explainer: Explains a process, product, or concept.
Promotional: Promotes a product, an initiative, or a service.
Emotive: Elicits an emotional response or motivates to action.
Each video should only try to focus on one of the three types above. It is hard to get an emotional response while also explaining how your business operates. Keep your goal for each video focused to get better results.
4. Tailor to each platform
Instagram and Snapchat are designed for mobile consumption, so vertical videos work better on these platforms. Even YouTube is beginning to accommodate vertical video, reporting that more than 70% of its watch time now happens on mobile devices.
You want your video's script, art, and music to cater to your audience. Similarly, its format should cater to your platform. Since platform requirements can make or break the usability of your video, this is one of the most essential video marketing strategies.
5. Use Custom Images
Custom images convert better than stock images. Stock doesn't sell, and video marketing strategies that incorporate stock images are likely to fall behind. This goes for your script, artwork, and animation, as well as your sound design and music.
When you create a fresh experience for your viewers, they're better able to connect with your message and your brand. Your business is unique. Unique content is the only way to communicate that fact to your audience.
6. Be Open to New Strategies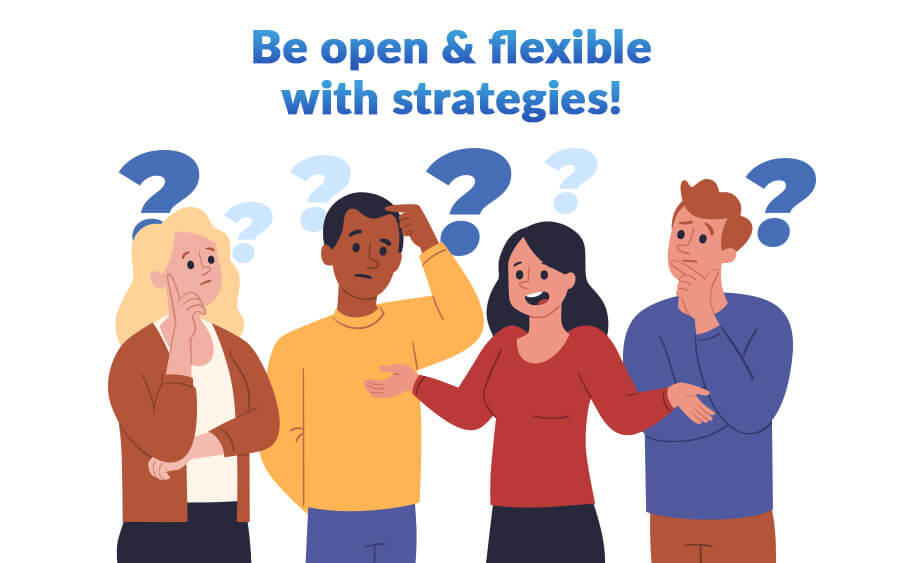 With any creative work, sticking just with what you know can leave you in the dust. It can push your audience to look somewhere else for new content.
When you're working to create great content, there are so many more options to choose from. The choices go far beyond traditional, camera-captured video footage. You can explore virtual reality and augmented reality, animated motion graphics, live-action video with animation overlay, and so much more.
Whichever approach you pick, make sure the decision is based on strategy. A video that chases a trend in conflict with its goals will miss the mark every time. In the end, that's far worse than a tried-and-true approach that hits each goal.
How successful was your brand's latest release? We hope these video strategies help ensure that your next piece of visual content achieves your goals.