One of the best low-cost ways to market a casino online and keep in touch with visitors to your site is an email database. This database has the potential to deliver a huge ROI to your casino since it requires practically nothing to create, and maintain — just space on your website's server.
You can start building an email database easily with your website.
Getting Started
All you have to do is have an area for people to type their name and email address to sign up for your newsletter. You can also tell visitors to sign up at the end of your blog posts to make sure they know they can hear more from you. The more email addresses you acquire, the more people you can encourage to come to your casino.
Once you have enough email addresses, you can send out newsletters on a regular basis to keep people engaged with your casino. Like a blog, these newsletters can cover any number of topics from new projects going on in your casino to a band that you booked to play on a Saturday night. You can also advertise any special deals you offer, new additions to your staff, and more.
Newsletter Marketing Tips
In general, you can follow a short set of guidelines to make sure you get the most from your email newsletters and casino marketing strategy.
Use strong subject lines
The subject line of your email is like the headline of a newspaper article. If the headline doesn't catch someone's attention, they won't read it. The same is true for your email. Write accurate, concise, and enticing subjects for every newsletter you send.
Highlight multiple topics
In a newsletter, you can give a brief overview on a variety of different topics to make sure people know what's going on at your casino.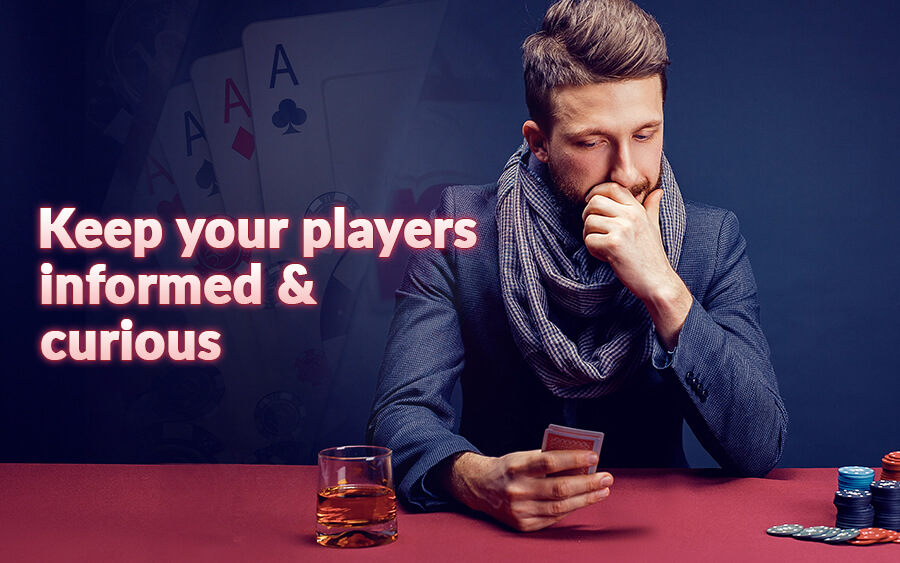 Inform readers
The biggest objective of your newsletter is to entice people to come back to your casino. Give them the information they need to make that decision, including dates, ideas, and more.
Write concise copy
Email newsletters generally aren't big, and that means you need to make every word count. Write a few sentences about each item on your newsletter and give readers a link to click so they can read more.
Incorporate your casino's image in the design
Whenever someone sees your newsletter, it should be clear that it came from your casino. That could include using specific colors, layouts, and even fonts to make sure people recognize your brand.
With a big base of email addresses and a consistent newsletter, you can easily bring people to your casino for a great night any day of the week.
Collect a database efficiently
With GamingSoft Global iGaming white label solution and GamingSoft Connect iGaming API solution, we've got you covered! Our software comes with customer analytics and retention tools built-in, so you can focus on making high-level decisions!
Click here to get in touch with us today!