It is really important for casino operators to have a wide variety of games — to constantly update and expand their games library — in order to attract and retain player attention. Since having the right game content is a competitive advantage, most casino operators will partner with dozens of game providers or choose an experienced iGaming Aggregator to provide access to an array of games from popular game studios.
Life without an aggregator
The integration of the game content is a critical step of launching an online casino. In this step, an operator needs to choose the best providers and the most popular and entertaining games among the great many available in the market. Getting content for an online casino is a long-lasting and tedious process of negotiation with game providers where one has to agree on the conditions of the deal, sift through the paperwork, and carry out technical integration of the gaming software.
Here, an iGaming Aggregator comes to the aid of casino operators, since it allows them to access a wide selection of casino games after following just one integration, instead of connecting with each game provider directly.
What is an iGaming Aggregator?
An iGaming Aggregator is a one-stop solution for all casino game product needs, uniting thousands of games from their network of popular game developers into a single product. Simply put, an iGaming Aggregator is an easy way to create a well-rounded casino product portfolio for a gambling website via a single API integration. The solution saves important resources, time and money. Let's figure out how it works and why more and more casino or sportsbook operators entrust their casino content to an experienced iGaming Aggregator.
The advantages of an iGaming Aggregator
Up-to-date with trends
Thousands of the most popular and innovative casino games in one place. As a rule, game aggregators establish partnerships with the most demanded game providers in the market. They constantly expand the offer following industry trends and market requirements.
One simple integration process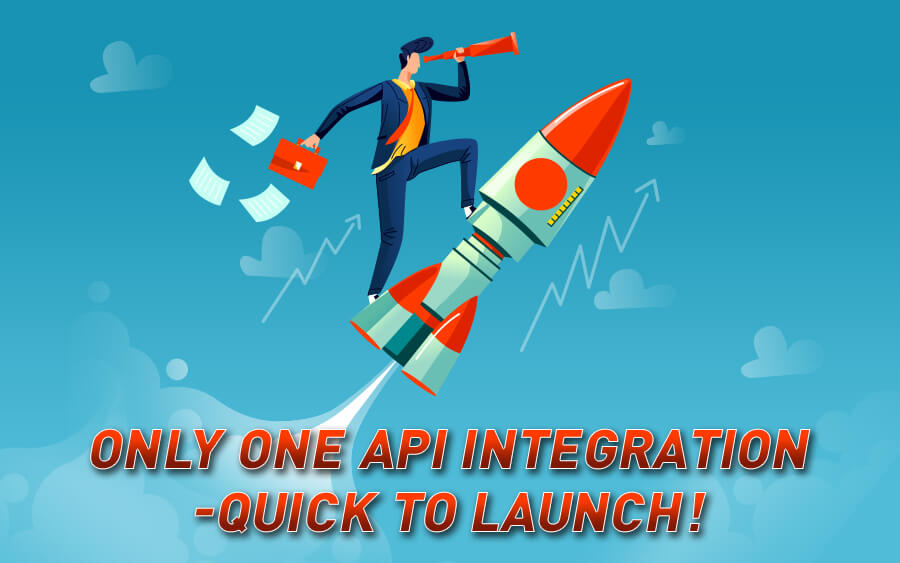 Casino operators only have to go through a one-time, single API integration to gain access to thousands of various casino games. The casino operator makes a deal and a technical integration only with their chosen iGaming Aggregator. This saves hundreds (or even thousands) of hours needed for contracting with game studios directly and all subsequent integrations, not to mention the constant technical support of those integrations.
Better rates
Due to the massive volumes of bets processed by an iGaming Aggregator, the rates are generally much better. Aggregators partner with dozens or even hundreds of casino operators. Their high volumes allow them to negotiate lower prices (usually, this is % of their monthly revenue) from game providers. As a result, the rates for casino operators are more attractive compared to working with game providers directly.
Easy & flexible library updates
Operators can get new content with hardly any additional effort. Since getting new content is super easy, operators can experiment better, see which games prove successful, and mingle the games in their suite to find content that will appeal specifically to their players.
Single point of contact
Operators get a single point of contact for solving absolutely any issues related to game content. The support team behind an iGaming Aggregator assists at each step of integration and provides ongoing technical support at a very high level, which simplifies the operator's business management.
Exclusive promos
Special promo campaigns are offered by game providers to iGaming Aggregator clients to attract and engage players. Game providers carry out promotions for casino operators at a regular timeframe. As a single entry point with information about all promo campaigns, an iGaming Aggregator informs operators about new campaigns offered by game providers, helping them easily navigate and choose the activities for their casinos.
Conclusion
An iGaming Aggregator is a quick and cost-effective solution to get and manage casino content easily. When choosing an iGaming Aggregator, operators should pay attention not only to the impressive array of integrated game providers it offers but also to the technical capability of the software as well as the market's feedback about the quality of the support service.
With GamingSoft Global iGaming White Label Solution or GamingSoft Connect iGaming API Aggregator Solution, casino operators instantly get access to GamingSoft's rich library of iGaming products from all of the best game providers in the Asian region! Be ready to launch in the matter of a few short weeks with As Simple As One integration process!
Click here to find out more about GamingSoft Global or GamingSoft Connect!
xe88 apk